The online shop number one for your production materials and operational equipment

Order
You can reorder your item quickly and securely using the text search function, the scanner, the product hierarchy or by selecting an image - directly at your PC or mobile with the Würth App from anywhere. In addition, it offers the following functions:
Apply
Besides order function and product details, you can find many service modules at the Würth Online-Shop which make your work easier.
Inform
At the Würth Online-Shop you can find details about your order, information about more than 150.000 products and additional services – 24 hours a day, seven days a week. Data sheets and many other useful functions are only one click away. The Würth Online-Shop is now even more structured and works on your smartphone or tablet.
Connect.
Do you have an OCI interface? We would be happy to link our Würth online catalogue to your system. The useful features of our Würth Online-Shop will still remain fully functional. More on data interfaces
Delivering options in our online shop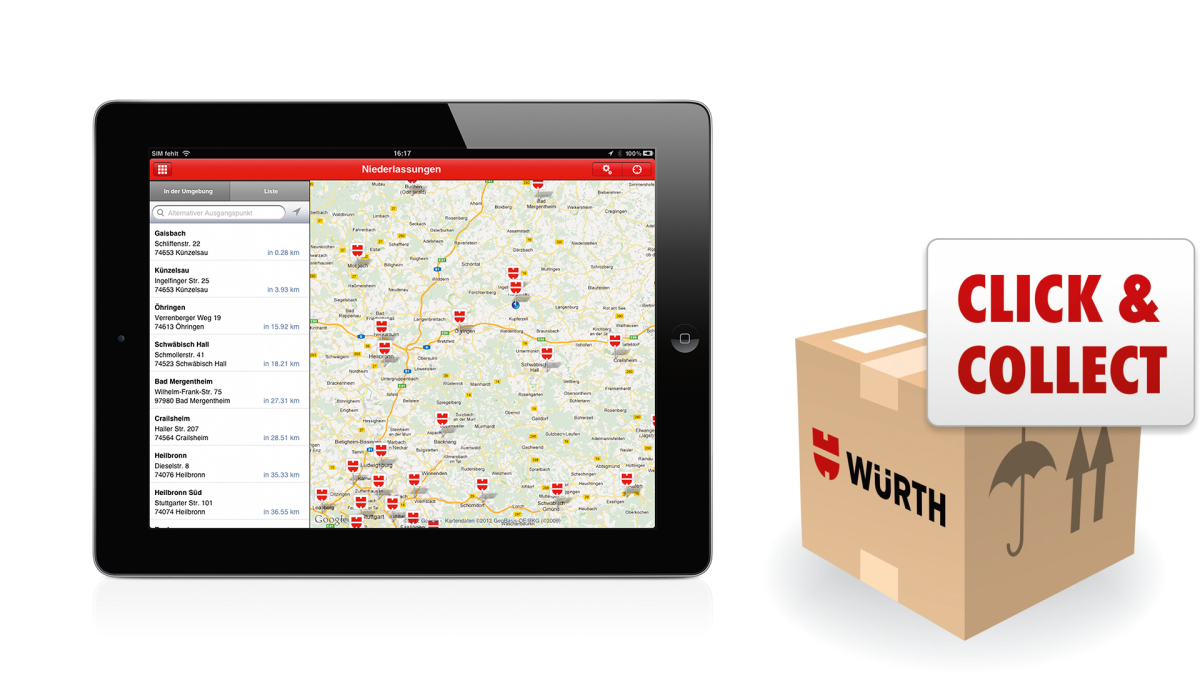 Click & Collect
Order in 60 seconds, pick up in 60 minutes. That is the principle of Click & Collect. Thanks to the service function, very short-term requirements for production and operating supplies will no longer be an issue!
Add the required articles from our range to the shopping cart in the online shop or in the Würth App and select the Click & Collect function. In 60 minutes, the parcel will be ready for collection at a branch of your choice. And that throughout Germany.
Fast availability is not the only advantage the function offers you. By linking the two sales channels, you benefit from the clear presentation of the product range in the online shop, including the additional service functions. When you pick up your products at the branch, you have the option of using the personal advice of your colleagues on site.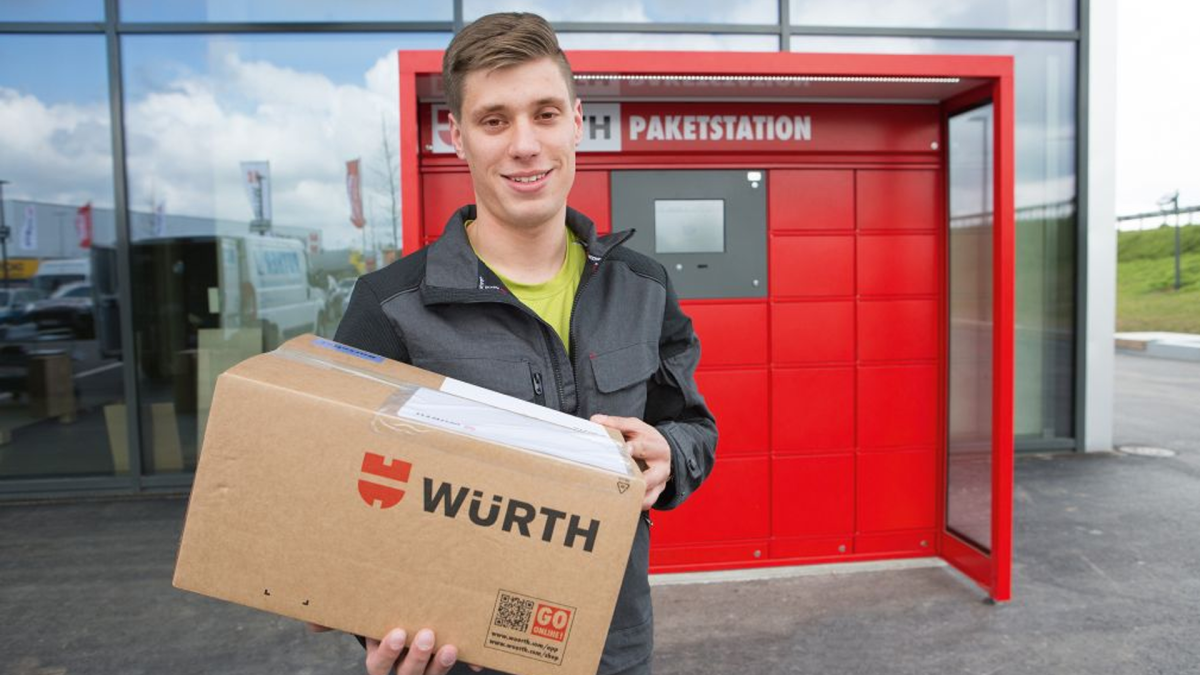 Würth Package Station
Do you occasionally have a short-term need for articles from our range and would like to order them by Click & Collect, but you could only pick up the goods outside the opening hours of our branches?
We also offer you a solution for such situations: the Würth parcel station. Our employees in the Würth branch simply place the parcel in the parcel station, and you automatically receive an access code by e-mail or SMS, which enables you to pick it up 24 hours a day - seven days a week. In the future, it will also be possible to store returns for pickup.
The project is currently in the pilot phase. The parcel stations are already installed in Gaisbach, Berlin, Hamburg, Bitburg and Saarbrücken, further expansion is planned.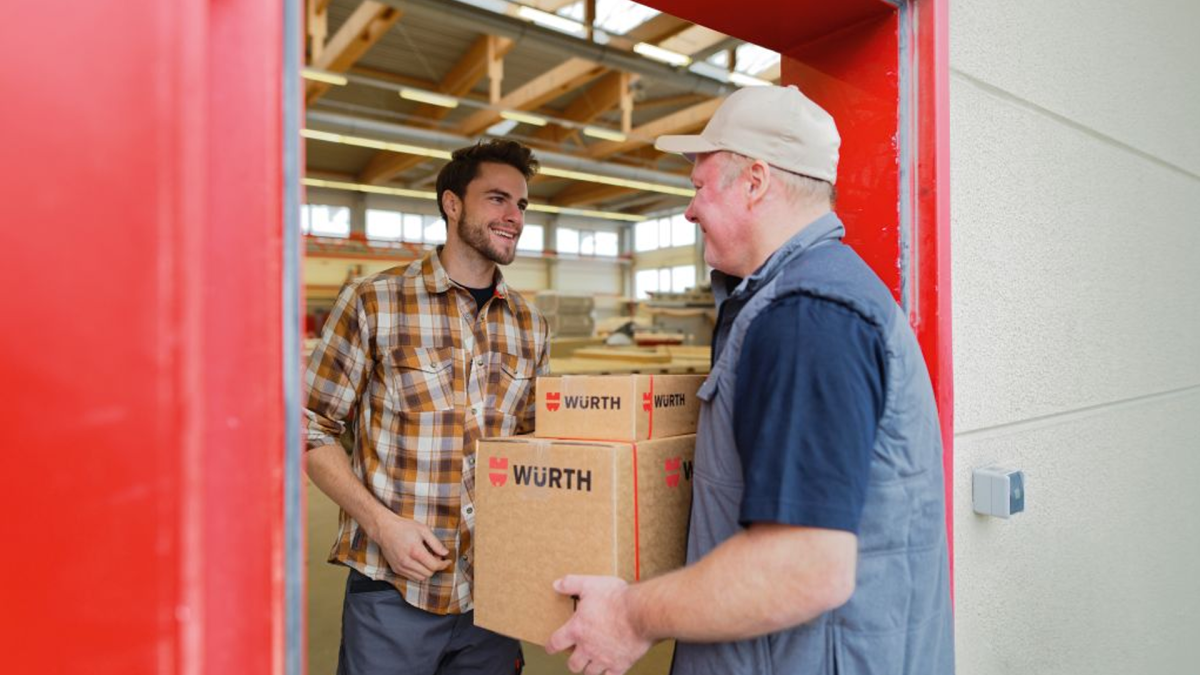 Würth Subscription
Do you have regularly recurring demands? Do you need certain products over and over again? In that case our Würth Subscription is just the thing for you!
Simply subscribe to the Würth products, get regular deliveries and minimise your storage costs
Exclusively in our Würth online shop
Regular delivery
Select from a range of more than 100,000 products
Always changeable
No additional charges and can be cancelled at any time
Individualised delivery cycles
How does the subscription work?

Fill up the shopping cart
Select your desired items as with a regular online order. All items available in the online shop can be ordered by subscription.
Choose delivery interval
Define in your shopping cart at which intervals the order should take place. At the beginning of the week the order will be processed and dispatched.
Lean back
Your selected items will be ordered automatically on time and will be delivered to the given address. There is no need for you to monitor your requirements on a daily basis and you can fully concentrate on your projects.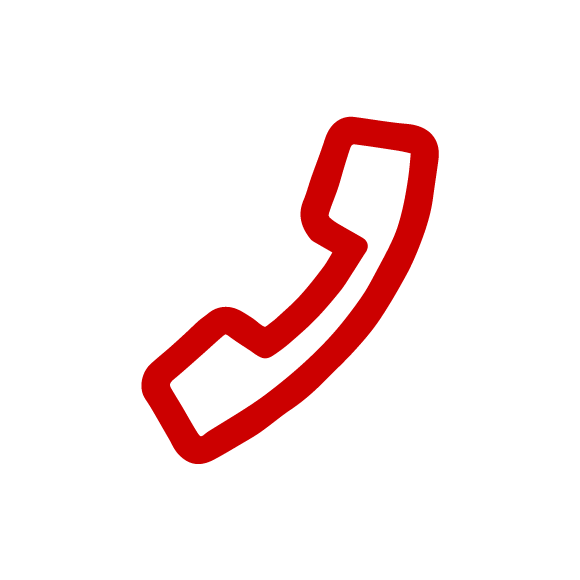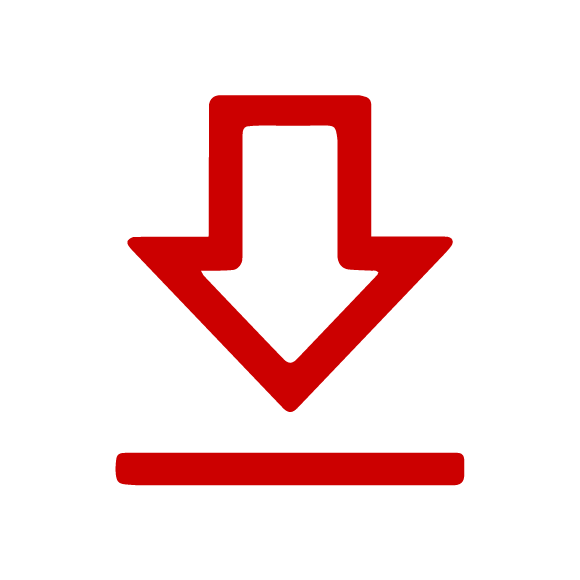 The Würth Industrie Service GmbH & Co. KG collects and processes the personal data provided in the form in order to process the requested request for you. Please note the mandatory fields in the forms. The legal basis for this processing, the absolutely necessary data, is Art. 6 para. 1 lit. b DSGVO, implementation of a pre-contractual measure. The processing of data voluntarily provided by you is carried out on the basis of Art. 6 para. 1 lit. f DSGVO. Thereafter, processing is permissible which is necessary to safeguard our legitimate interests. Our legitimate interest is to have contact with you, our customers, to improve our consulting quality and to be able to contact you more easily in case of possible queries. The data collected will only be stored by us for as long as is necessary to process your enquiry and to contact you. They are then deleted.

Supplementary data protection information, in particular regarding your rights to information, correction, deletion, restriction of processing, objection and complaint, can be found in our data protection declaration.