Faster, more transparent, more secure — radio frequency identification, or RFID for short, is a firmly established system for managing the replenishment of production material in manufacturing industries and is a key building block within an efficient value chain. As a C-Parts system partner, we have made use of this technology within industrial Kanban systems for lean inventory management, automated mapping of repeat orders and identification of fluctuations in demand at an early stage. The RFID Kanban systems therefore enable even higher supply security than with traditional Kanban processing.
CPS®RFID stands for...
C-Parts solutions with radio frequency identification
Radio transmission of the item and bin data directly from the customer's production facility to our central warehouse
Early recognition of demand fluctuations
Automated repeat orders without the need for scanning or manual entry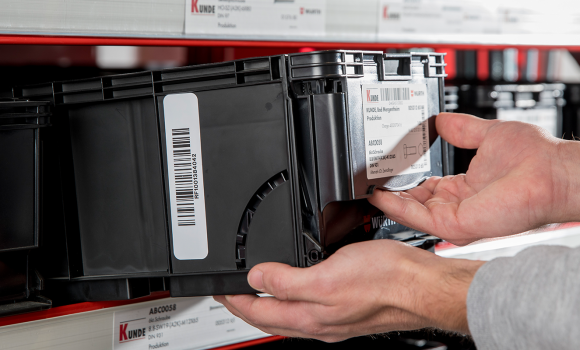 RFID Kanban Systems - Maximum security for your supply chain
The technique is explained quickly: The basis is an insensitive chip with antenna, referred to as a so-called RFID tag or RFID transponder, which is attached to the respective object, in the C-Parts area as a label on the Kanban bin, and is movable. Each tag is identifiable by a unique number for data security. An RFID system also consists of a reading device for detecting the transponder and the sending unit for data transmission or for the automated reordering of C-Parts for production. The essential distinction of the systems lies in passive or active RFID transponders.
While passive RFID transponders do not have their own power supply and gain the energy to send the data from the energy field generated by the reader, active transponders have their own energy source, for example battery, which initiates the data transfer.
We operate both systems, but mainly favors systems with passive RFID transponders, as these are maintenance-free. In addition, the integration of systems with passive transponders is seamlessly possible and no change in customer processes necessary.
Different RFID system solutions - Timing matters
Pallet box with RFID
The order is triggered when empty bins are placed in the intelligent pallet box, also suitable for pallet Kanban.
The intelligent shelf
The order is triggered when empty bins are placed on the intelligent shelf in the Kanban rack.
For pallets and bins
Intelligent dropbox to trigger orders in pallet Kanban
Bulk capture via RFID
Bulk-scans over 200 bins at once and places the order